Skip Navigation
Website Accessibility
Riccar Deluxe Clean Air Upright Vacuum

R25D





The R25 Deluxe is an advanced cleaning machine, built for power, performance, and ease of use. The R25D model has a self-adjusting nozzle that transitions beautifully from ultra-plush carpet to bare floors without scratching wood or blowing dust. Large rubber wheels, plus 360-degree casters and smaller rubber wheels give the vacuum the amazing ability to turn on a dime. Lower it to the floor for cleaning under furnishings easily, or stretch the hose and wand to a full 11 feet to clean crevices you never thought you'd reach with an upright vacuum. Another helpful feature is the sensor light that tells you when it's time to change the bag. And the R25 Deluxe is a durable vacuum, equipped with an aluminum wand and metal brush roll. This machine is built for years of reliable performance.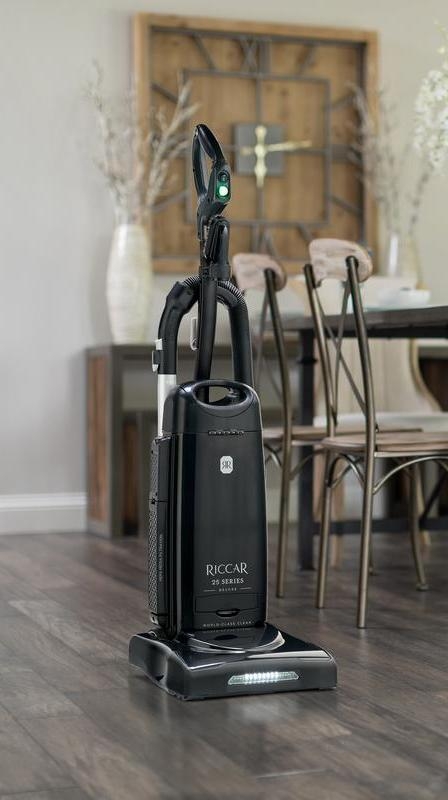 Product Features
Carrying handle balances weight perfectly for carrying up stairs or between rooms
Full Bag Indicator lights up to remind you when to replace the bag
360-Degree Turning
Self-Sealing HEPA Media Bag - Meets HEPA filtration standard of 99.97% efficiency at 0.3 microns
Lifetime belt protection - The brushroll stops turning until the jam is cleared
Equipped with brush strip designed to sweep bare floors as well as carpet
Metal Brushroll with replaceable brush strips - A strong metal roller is designed to perform well and to last for many years. As you'd expect the brush strips are replaceable and are customizable to your home's floors.