Click on machine name to view details and brochure.


HQ Sweet Sixteen

| Video
Description:
Struggling to fit your project in the small throat space of a standard sized sewing machine? The HQ Sweet Sixteen® gives you 16" of throat space with room to quilt even a king-size quilt! You'll finish your project quickly and easily with the smooth surface of the included 30" x 36" table, sewing speed of up to 1500 stitches-per-minute, and integrated programming allowing you to set your own preferences.
HQ Simply Sixteen

| Video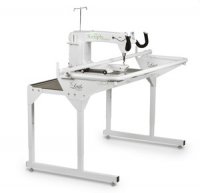 Description:
Don't let space restrictions dictate what you can create. Combined with the HQ Little Foot Frame™ system, the HQ Simply Sixteen enables any quilter, beginner to advanced, to finish any size quilt without the space requirements of a conventional frame system. Integrated technology and engineering provide the functionality that quilters demand, paired with the smoothest stitch in the industry. Handcrafted in the U.S.A., the HQ Simply Sixteen is backed by the HQ warranty. It's simply the best solution when space is at a premium.
HQ26 Infinity
Description:
Innovative features, from stitching speeds up to 3,100 precision stitches per minute to handlebars that can be tailored to how you like to quilt, establish the Infinity as best in class. Customizable settings, programmable presets and intuitive software give the Infinity the ability to work and grow with you, and the latest technological advances make it even easier to use.