Skip Navigation
Website Accessibility


Remember
Support local business and we will support you!
When you purchase a sewing machine online, all you get is the machine.
When you purchase a sewing machine from
Kingdom Sewing Center,
you receive
FREE lessons
for as long as you own your machine, 5 years
FREE
adjustments and any questions or problems will be addressed immediately by our professional sewing/technical staff.
Handi Quilter was designed by a quilter so they understand what quilters need: a reliable, low-maintenance longarm quilting machine that not only makes it easy for you to finish more quilts, but also looks great in your studio. Whether you quilt for fun, charity, or profit, Handi Quilter's innovative technology and quality engineering provide the functionality that quilters demand, along with the smoothest stitch in the industry.
All of our longarm quilting machines are backed by the trusted Handi Quilter warranty and Kingdom Sewing's excellent customer service, education, and technical support.
Click on machine name to view details and brochure.




HQ Capri
| Video
Description:
The HQ Capri is a BIG machine for SMALL spaces. Free-motion quilting was never easier, and your stitches will be PERFECT with the HQ InSight™ Table with built-in stitch regulation. Some of the machine's features include needle-stop position control, a responsive foot pedal, easy needle change, low-bobbin estimator and alarm, a quilting alarm and stitch counters.
HQ Simply Sixteen

| Video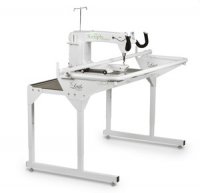 Description:
Don't let space restrictions dictate what you can create. Combined with the Handi Quilter HQ Little Foot Frame™ system, the Handi Quilter HQ Simply Sixteen Longarm System enables any quilter, beginner to advanced, to finish any size quilt without the space requirements of a conventional frame system. Integrated technology and engineering provide the functionality that quilters demand, paired with the smoothest stitch in the industry. Handcrafted in the U.S.A., the HQ Simply Sixteen is backed by the HQ warranty. It's simply the best solution when space is at a premium.
HQ Moxie
|
Video
Description:
Now every stitch can be yours—from pieced top to finished quilt. You'll find 15 inches of free-motion freedom in the new HQ Moxie™ longarm quilting machine. Forget basting with pins or cramming quilts through a domestic machine. Get to stitching quickly with straightforward features, easy-to-use controls, and the space to get creative. Quilt without qualms, adventure with attitude—that's Moxie. This machine produces up to 1,800 stiches per minute. It features a high-speed rotary hook with a large-capacity M-class bobbin, a ruler foot and an open-toe foot. It also boasts built-in LED lighting to illuminate your whole quilting space.
HQ18 Avanté



Description:

For the quilter who is looking for more quilting space, but wants a machine that makes the most ef­ficient use of a quilter's reach, the Handi Quilter HQ18 Avanté Longarm System offers precision stitching with 15" of quilting space. Multiple track, table and frame options are available to suit your budget.
HQ20 Amara | Video


Description:

Experience quality, precision and a world of quilting possibilities with the latest in technology and convenience features. With your choice of either the 10' or 12' HQ Studio2 Frame, from baby quilts to king-size, the Handi Quilter HQ Amara Longarm System is the perfect fit for your style of quilting.
HQ26 Infinity


Description:

The Handi Quilter HQ26 Longarm System provides innovative features, from stitching speeds up to 3,100 precision stitches per minute to handlebars that can be tailored to how you like to quilt, establish the Infinity as best in class. Customizable settings, programmable presets and intuitive software give the Infinity the ability to work and grow with you, and the latest technological advances make it even easier to use.